Co-ed Dorms
Whether you are traveling solo or you're traveling with friends, at Wanderstay Hotels, you have the option to reserve one bed or the entire room for you and your friends!
---
Wanderstay Room
Houston hostels have never looked this good! Enjoy the unmatched value and comfort that you desire in our namesake room!
Houston Sports Team Room
Feel right at home among like-minded sports fans by booking our sports-themed, co-ed dorm. Whether you're in town as the Texans kick off another NFL season or you're rooting for the Astros through another playoff appearance, this co-ed dorm will make you feel right at home.
Diverse City Room
We are proud to celebrate the wide diversity of Houston with our own themed, co-ed dorm room. Houston is known for its eclectic and diverse population, and we seek to honor that by welcoming all Wanderstay-driven travelers, regardless of who they are.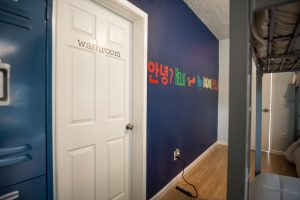 Rodeo Room
Become one with the rodeo when you stay in the room that is dedicated to our annual Houston rodeo. If you've never experienced this yearly tradition, staying in this room will give you a chance to feel as though you're part of the event!
Museum Room
The culture of south Texas is not overlooked in our museum-themed room. This room is one of our most popular rooms, as it incorporates the aesthetics of some of the most recognized museums in Houston.

All guests at Wanderstay Houston must be 18 years or older to check in and have a VALID ID.  One guest per bed in our shared accommodations. Private rooms allow a MAX of two people.
---
For groups of up to 27 guests, book your accommodations now or contact our friendly staff with any questions or concerns.
Wanderstay Hotels is a cashless property. All payments must be made with a debit or credit card.