Book Your Room
Highlighting all that is great about Houston and Texas, each of our rooms at Wanderstay Hotels, both private and shared, were creatively designed to not only meet your needs and expectations, but to also change what you thought you knew about Houston hostels.
We like to think we're the answer to the question, "Where can I stay in Houston without blowing my travel budget and without giving up the perks of a traditional hotel?"
We proudly offer eight creatively designed rooms, which are available for both the solo traveler and small groups.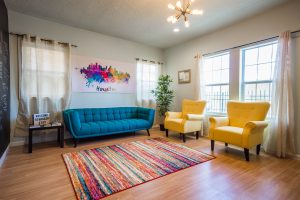 Wanderstay Houston is a cashless property and all payments must be made with either a debit or a credit card.
---
Female Dorm – Female-Only Shared Dorm; En-Suite Bathroom (Sleeps up to eight)
Our "I Woke Up Like This" room makes it easy to celebrate everything women have to offer.
We thought it was fitting to make Beyonce – a Houston native and the Queen of Everything – the inspiration for this shared room. Whether you are a solo woman traveler, traveling with a friend or two, or even planning a traditional girls' night out, this shared room is perfect for any occasion!
---
Wanderstay Room – Co-ed Shared Dorm (Sleeps up to four)
You will love your stay in our namesake room. This themed, co-ed dorm will give you the nomadic feel every world traveler desires.
---
Sports fans of Houston's professional and college-level sports teams will feel right at home while staying in our sports-themed dorm. We welcome both male and female fans of the Astros, Texans, Rockets, or even the Dynamo and the Dash.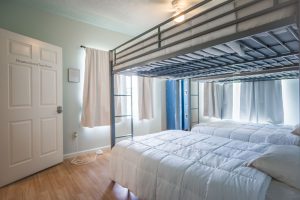 ---
Diverse City Room – Co-ed Shared Dorm; En-Suite Bathroom (Sleeps up to four)
In an effort to be as inclusive and inviting as the rest of our hometown, we are proud to celebrate the wide diversity of Houston with this themed co-ed dorm room. We welcome all Wanderstay-driven travelers, regardless of who they are.
---
Embracing our link to the cosmos through NASA, our Houston-themed private room embraces all that is great and impressive about the place we're proud to call home. Room comes with a twin long bed.
---
Museum Room – Co-ed Shared Dorm (Sleeps up to two)
In an effort to not overlook south Texas' amazing culture, we incorporated the atmosphere of the region's best and most recognized museums into what is likely to be one of our most popular rooms. Discover the unique ambiance for yourself by booking the Museum room today.
---
Rodeo Room – Co-ed Shared Dorm (Sleeps up to two)
The Houston Livestock Show and Rodeo™ promotes agriculture by hosting an annual, family-friendly experience that educates and entertains the public, supports Texas youth, showcases western heritage, and provides year-round educational support within the community. This bright and cozy room gives you a little sample of this annual event.
---
Nothing quite matches the quiet and calm of the Galveston beach. Texas' sandy claim to beachy fame is the focus of this welcoming room. Embracing the best of what is arguably Texas' most popular beach destination, our Houston hostel pays tribute to our neighbor at the shore.
All guests must be 18 year or older to check in. No pets allowed. One guest per bed, except for private rooms, which allow a MAX of 2 people.
---
Whether you're a solo adventurer or prefer to travel in a pack, our Houston hostel is the perfect place to stay while you're in town. Welcoming the value-conscious traveler, Wanderstay Houston provides all the amenities you need rolled into one affordable package.
Traveling with a small group? Awesome! We are happy to accommodate up to 27 people in our private and shared rooms. Please send us an email to inquire about rates and availability.